Now Available! At Last!
CHIPPER'S FIRST DOWNLOADABLE "DOUBLE A-SIDED" SINGLE! On side one: a fine country-western, truck-drivin' two-steppin' tune by the name of "FREEWAY BALLET." Here's an excerpt:
On side two: a gentle folk waltz to sing you to sleep, called "LIE FALLOW (MARIA'S LULLABY)."
99 thin cents gets ya both of 'em, friends! Step right up! Step right up! This "BUY IT!" button is a PayPal link with all credit cards accepted. After you checkout, you'll be directed to the download page:
Chipper Thompson CDs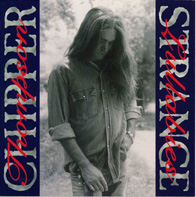 STRANGE LULLABIES
Originally released in April 1997, Chipper's debut CD is a fully-realized cross-section of Chipper's wide-ranging influences and songwriting. Chipper says, "...folks in the Rocky Mountains say 'If you don't like the weather, wait five minutes and it'll change!' " and that could be said of Strange Lullabies as well! There's quiet acoustic folk songs like "When It's My Time" and Chipper's Celto-Indian take on the traditional "Barbry Allen."There's the rock-n-roll of "I Want To Haunt You" and"If I'm To Blame" as well as the bluegrass instrumental "Briars And Brambles" and the haunting duet withCeltic diva Connie Dover ,

"The Fall Of Dun Aengus." And that's not even half the playlist. In other words, all the foundations of folk-n-roll are right here. If you're just getting into Chipper's music, this is the place to start.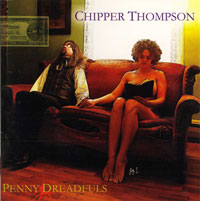 PENNY DREADFULS
On July 4, 2000, Chipper's world was rocked by the death of his wife, acclaimed painter Lanford Monroe. After a difficult, absinthe-soaked time of soul-searching and angst, Chipper recorded Penny Dreadfuls, a dark, brooding night of the soul, beautifully expressed in music. But don't let the darkness put you off... Penny Dreadfuls is perhaps Chipper's most wholly-realized vision to date, and an achievement in songwriting and recording under difficult times. Atmospheric yet driving rock lays alongside quiet acoustic meditations and even a touch of techno-influenced dance music.

Chock-full of tunes at over 72 minutes running time, and accompanied by some of the most beautiful graphics of any of Chipper's recordings, Penny Dreadfuls is a keeper!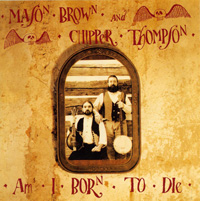 AM I BORN TO DIE
Chipper and Mason Brown forged their friendship over a shared love of Appalachian and Anglo-Celtic folk music, and after honing their sound with several months of gigs, recorded the acclaimed Am I Born To Die, a brilliant new collection of acoustic folk songs. Mason plays banjo and fingerstyle guitar, Chipper plays bouzouki, mandolin, and guitar, and both sing in rugged, beautiful, mountain harmony. Moving from Celtic drones to Appalachian soul with effortless ease, Mason and Chipper present old favorites like "Jesse James" in shocking new arrangements (bottleneck slide

bouzouki, anyone?) and lesser-known songs like "The Verdant Braes Of Skreen" and one folk-compatible original, Chipper's "No Man Can Hinder." If you're a traditionalist, this is the one for you!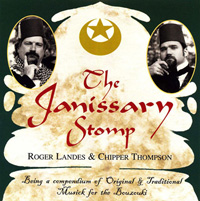 THE JANISSARY STOMP
Chipper and his great friend Roger Landes both came to the bouzouki on different paths, but once they got there, the fireworks started! Roger brought his rock-solid Irish playing and knowledge of medieval music to the table, and Chipper grabbed his bottleneck slide and blue hillbilly vocals. They met over the various musics of the Mediterranean and Mexico and headed into Cactusfire Studio with a pile of music and a pile of bouzoukis... The Janissary Stomp is the smokin' hot result! Showing how soulful and exciting real fusion music can be,The Janissary Stomp is perhapsthe most broadly-pleasing

CD Chipper's ever been associated with. Check out lots more about this superior recording at the dedicated website, www.janissarystomp.com, or buy it now!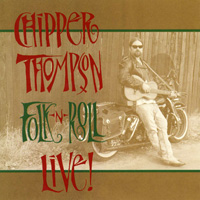 FOLK-N-ROLL, LIVE!
After the acclaimed release of Strange Lullabies, Chipper searched for solo gigs all over the United States, but he found that when the promoters heard his debut CD, they couldn't believe he could reproduce the variety of music all by himself! So Chipper and Don Richmond recorded two acoustic coffeehouse gigs in the cold February of 1998, intending to use the tracks to help Chipper score gigs. But they liked the recordings so much that Chipper decided to commercially release them! On Folk-N-Roll, Live! you'll find some new songs by Chipper, as well as some of the

wildest cuts from Strange Lullabies in a radically new setting. If you want to prepare yourself for the whirlwind of Chipper's solo acoustic shows, Folk-N-Roll, Live! is the CD for you!